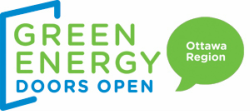 We are excited to be hosting three sites this year!  Each is unique in terms of design, lifestyle and needs:
Passive Single Family Home at 6011 Snake Island Road in Osgoode.  Designed and built with active teenagers in mind, this Osgoode Passive home has ample space and a real connection to nature and outdoor living. Working very closely with the homeowner throughout all aspects of the design and build process, a home has been produced that is not only extremely efficient and comfortable, but also reflective of the owner's personal and unique value set and lifestyle. This home features include:
• A two-head cold climate air source heat pump
• ERV with ground loop preheating
• Heat pump water heater
• Solar window awning
• Screened-in porch and
• Provisions for a future electric car and net metering system.


TOUR:  Friday, September 27, 2019 from 11 AM – 3 PM.

Zero Carbon Build at 723 Heritage Drive in Merrickville.  EcoGen's first and most comprehensive energy-focused project, designed for solar thermal and seasonal energy storage. This house is now the test-bed for EcoGen's experimental multi-function HVAC system. This house has surpassed Net Zero Energy status by generating more energy than it and the home's electric vehicle had used over the last year. Some of the home's additional features include:
• Strong passive solar performance
• Radiant hydronic heating and cooling
• Environmentally-kind building materials
• Net Metering solar system
• Off-grid solar system
• Ground loop ventilation preheat
• On-demand domestic hot water recirculation
• Drain water heat recovery
• Rainwater storage
• Root cellar
• Phantom load kill switches


TOUR:  Saturday, September 28, 2019 from 9 AM – Noon.

Compact, Modern Passive home at 323 Wallace Street in Merrickville.  This compact slab-on-grade two-storey home has an open and modern style suitable for empty nesters with an active and social lifestyle.  This home was designed and built to the Passive House standard with special features that include:

space-conscious cabinetry and storage systems
two hot water recirculation loops
a single, small cold climate air source heat pump as its only heating source
ERV with ground loop preheating,
heat pump water heater
solar window awnings
a Biofilter septic system, and
Provisions for a future electric car, net metering system and screened-in porch.


TOUR:  Saturday, September 28, 2019 from 1 – 4 PM.