Wow!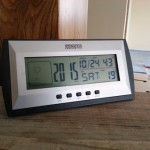 I don't have words to express how satisfying – and at times even amazing – it is when I walk into the house and FEEL the comfort.  With all but the last details of insulation complete and the heating not operational yet, the house has been hovering in the 17° to 21°C range.
Let's put that into perspective: I've been living in a log cabin with a wood pellet stove that has been burning increasingly often since September.  I dress regularly in fleece while in the cabin.  When I get to the house I immediately feel the even, continuous, radiant warmth in every part of the house, whether the sun is shining or not. When I work it has to be in short sleeves.  When the sun shines, it is wonderful sitting in the light, but we have to open windows if we're working by them.
You have to love it when a plan comes together! As a PHIUS CPHC, (Passive House Institute US, Certified Passive House Consultant) I knew intellectually what to expect, but it is more than reaffirming to actually experience it in one's first build.  On a cold morning – like when it was -8°C a couple weeks ago – it really struck me: why aren't I living in this house yet!  Then I thought: I really need to get other people to visit in weather conditions like these.  The experience of feeling the comfort of the house under such extreme conditions (sub-freezing outside, cozy everywhere inside without heating) will show you what you may be missing.  You have to feel it to believe it!
Now, we do not even remotely expect to go through the winter without heating, but I'm feeling very confident that it is going to be a winter that is light on energy bills and by extension, light on our carbon footprint.  We plan to move in before the end of November and begin living the dream.
Coming soon: an operational, highly efficient ERV!  Yesterday I activated the ERV and today I will fine tune it. Looking forward to telling you more about that critical, high performance part of the house.
Chris & Clare