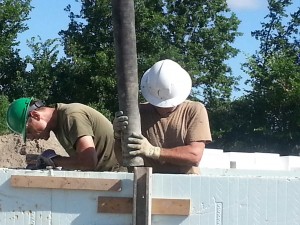 Well, it's done! All stars were aligned and the pour went well. It almost seems anticlimactic given all the work to get to the point of being ready to pour. Having said that, there was care and concern throughout the pour to ensure that it went well. Thanks to all our crew for their part in it: Jim, Karl, James, Liam, Nick and Tom.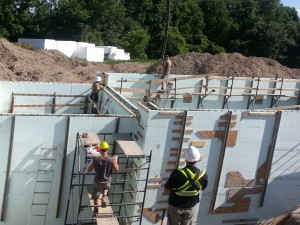 So, with the foundation poured there is much yet ahead before framing that is both "standard" (i.e. typical of a normal house) and "special" to our build. Normal things include:
• Strip the alignment system and clean up
• Waterproofing the foundation with a "peel & stick" (my terminology) membrane
• Install mains electrical cable, well pipe & well power supply cabling
• Install floor drains and fill in basement excavation with stone
"Special" things include:
• Run more ground loops for heat exchange – cooling of the floors and the ERV fresh air supply
• Install rainwater supply tubing for the greenhouse
• Ground loops for summer dumping of excess heat and pre-heating of ERV fresh air supply
• Super-insulation of the basement, including high density insulation to break thermal bridges under the column footings
• Hydronic tubing for radiant floor heating and cooling. Note: an added benefit of hydronic heating and cooling is that the basement slab can be incorporated into the rest of the house's thermal mass. This allows that slab to help buffer the house's temperature swings on sunny days; reducing summer highs and making better use of winter and shoulder season sunny days. Yes, that means going "active", but with high efficiency circulators, the added "cost" of a few dozen watts is more than offset when the sun is shining on our PV modules.
• Super-insulate the thermal storage vessels and install an air and waterproof lining that will tie-in with other house seals
Stay tuned for more of our "out of the ordinary" adventures!
Chris