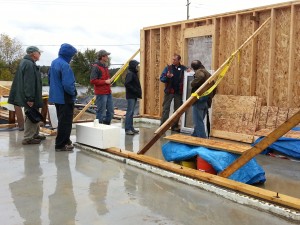 No, I didn't miss Thanksgiving (the event), I just missed an opportunity to tell you how thankful we are for the people who are helping with the build and to you; the people interested in what we are doing.
To the people helping our build, thank you to: Jim, James, Karl, Nick, Thomas, JF, Doug, Fred and Arn.  Without you we wouldn't have anything to show.  Thanks!
To those who show interest in what we are doing, thank you!  You may not know this, but your interest encourages and drives us forward.  After all, our primary intent is to develop building solutions to offer more broadly.  Your interest and comments are the vital feedback that tells us we are on the right track.  Thank you to those who've asked for updates, who've visited us at our Open House, who come out to visit us at the site, who've invited us to present our project, and to those who send comments to our blog (which, by the way, we sincerely invite).
On this vein, I'd like to say a special "thank you" to Bill Carey for making it out to see us, despite his poor health.  For those unfamiliar, Bill embarked on the path toward high performance building and energy self-sufficiency decades before we launched this project.  It is on the shoulders of such people that we now stand when we push boundaries.  We are thankful for the work they've done, for the understandings they've provided us and for their continued interest and support.  Thank you, Bill!
Chris