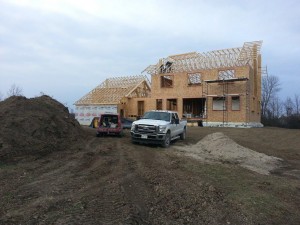 The trusses are up!  They went up yesterday by crane.  Just a couple special "Passive House" considerations here:
• the large overhangs both on the ends of the trusses and the ladders (overhangs on the gable ends of the trusses).  The overhangs are close to 4' deep and are there to cover the Larsen Trusses (the "Parka" insulation layer referred to in the last blog post) and to provide shading for the upper floor windows in the summer.
• The layer of OSB sitting on top of the walls that will be a sealed, continuous air and vapour barrier in the ceiling of the upper floor.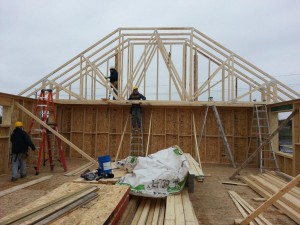 These two unique features required some small adaptations to usual practice.  Otherwise, it was a busy and tiring day, but one with a great sense of accomplishment!
Next steps will include sistering of the south-side of the trusses (sandwiching the upper chord with 2"x4") to provide additional structural material for the PV mounting system to engage with.  With steel roofs, there are often times when a roofing rib coincides with a truss such that it makes it risky to achieve an effective seal.  In cases like this, it is best to move the mounting point to the left or right about an inch and a half, but this requires a new mounting material, hence the sistering.
Stay tuned for more details as we continue our race against winter!