Last week was a cold one!  We avoided outdoor work at the expense of building progress.  I spent the time designing a solar thermal system for another seasonal energy storage project.  But on Saturday, sleeves got rolled up again (figuratively) and progress was made once again.  When we left the site over a week ago, the Larsen Trusses were up on the Eastern wall and we'd just begun work insulating them.  We left them with the first 4' row filled.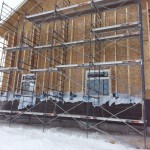 On Saturday, four of us picked back up again; sheathing then dense-packing the Larsen Trusses with cellulose.  It was amazing: we've never made so much progress in a day – 97 bags were blown and packed into the wall!  Only a few cells were left undone by the end of the day.
On Sunday, we continued the push, finishing the dense packing, building the Larsen Trusses up to the gable peak and adding 30" of loose-fill cellulose (R-100) to effectively extend the attic insulation layer over top of the Larsen Trusses.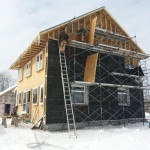 We were able to leave feeling pretty good about the progress made.  Nice when that happens!
Our focus will shift next to the Southern wall where there are a lot of windows and other details.  This will – unfortunately – slow us down.  The progress on the Eastern wall is deceptive because of its simplicity.  The South and North, however, have a number of complications, so we'll have to temper our expectations.
Once we have the North and South done, the attic will follow. With that done we'll switch our focus to partitioning the upper floor.
On another note, we will be exhibiting at Eastern Ontario Model Forest's Woodlot  Conference at the North Grenville Community Centre.